The Best of Atlanta!
Click on any Atlanta BeltLine neighborhood name to the left to search for homes for sale in that area and get connected with in-depth community information about each of the 45 neighborhoods that make up the Atlanta BeltLine!
Or search the MLS for
homes for sale anywhere in Atlanta
right now!
Whether you're buying an Atlanta home, selling your home, investing in Atlanta real estate, or relocating to Atlanta, the following information, resources and tools are here to help guide your decision. As you can see, we're fans and big believers of the Atlanta BeltLine. The BeltLine project is one of the largest transportation projects in Atlanta's history and one of the biggest transit transformations taking place in the United States right now. By the time the project is completed, Atlanta will be ringed by 22 miles of transit, 33 miles of pedestrian-friendly transit, and thousands of acres of new and restored parks and greenspace.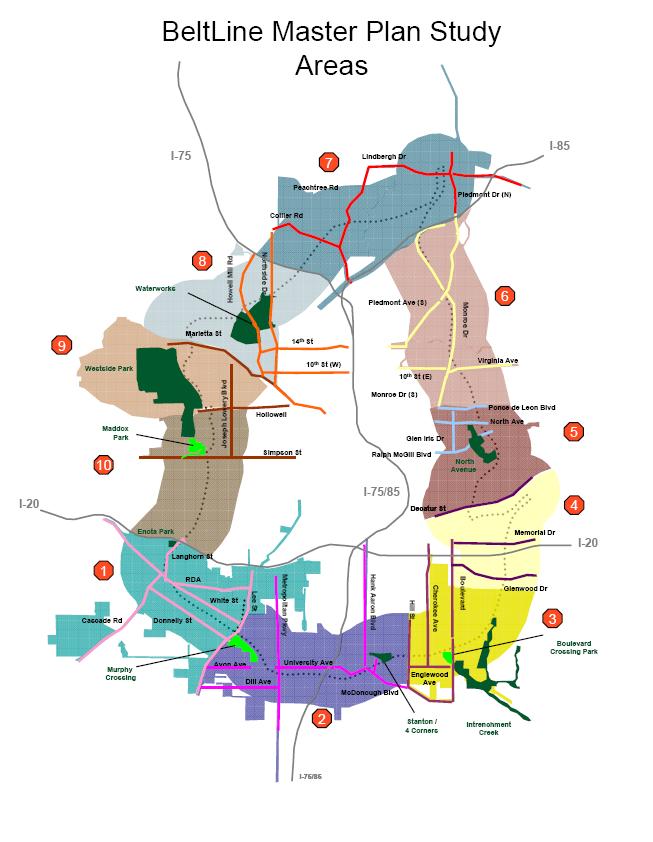 These 33 miles of walking trails and biking paths will connect 45 neighborhoods around the Metro Atlanta area, never veering more than 3-4 miles from the heart of Downtown Atlanta. Curious about which 45 neighborhoods exactly? Excited about the possibility of living along one of the most walkable, pedestrian-friendly transit and trail projects in the country? The Atlanta BeltLine has broken down the corridor into ten subareas and we have divided up our neighborhoods the same way, with the list of each community listed under the subarea. Click to view the breakdown of the BeltLine's 10 subareas on their website.
Read on for detailed information on the 45 connected communities, reports and school information by zip code, neighborhood photos, links to local Atlanta civic associations, and how to get involved with the BeltLine NOW, whether you live in the corridor yet or not!
[This page is in progress, so please excuse us while we're hard at work!]
Subarea 1:
Abernathy-Cascade
You'll find these neighborhoods within subarea 1:

West End
Westview
Subarea 1 of the BeltLine is encompassed within Atlanta's West End neighborhood and begins at the intersection of I-20 and Langhorn Street where the path passes under the highway. From I-20, the BeltLine runs south to the west of Muse Street, passes underneath Ralph David Abernathy at the intersections of Cascade and White Street (by the Kroger City Center), and along White Street all the way to Lee Street. A section of the West End trail has already been built and is used daily by residents.

This portion of the BeltLine is home to Westview Cemetery, Enota Park, Gordon White Park (quickly becoming the neighborhood hot spot for festivals), Rose Circle Park, the BeltLine's first painted outdoor mural, and some of the first stretches of the BeltLine Arboretum to be planted. You can also access public transportation at the West End MARTA station
BeltLine's subarea 1 includes West End and West View and you can find contact information here for the BeltLine's Southwest Study Group (including areas 1 and 2) and get involved!

Subarea 2:
Heritage Communities of South Atlanta

Discover these neighborhoods in subarea 2:
Adair Park
Capitol View
Capitol View Manor
Choosewood Park
High Point Estates
Oakland City
Mechanicsville
Peoplestown
Pittsburgh
Sylvan Hills
The Villages at Carver
Westview
The Heritage Communities of South Atlanta skirt downtown Atlanta to the south and afford easy access to the city's business districts – no more commute! Beginning with Lee Street to the west, subarea 2 sweeps to the east all the way to Hill Street, over Metropolitan Avenue, running alongside University Avenue and passing under 75 / 85 at the University Avenue exit, and crossing McDonough Boulevard at grade where it intersects with University and Ridge Avenue. Highlights of this area include D.L. Stanton Park, Four Corners Park, Carver High School, easy access to Turner Field, and proximity to Atlanta's largest highway artery – the Downtown Connector. South Atlanta boasts neighborhoods of brick bungalows designed by the same architect who developed Virginia Highland and Morningside in northeast Atlanta.
The BeltLine master plans for subarea 2 include spur trails and park redevelopment during the first five years. Click here for contact information for the BeltLine's Southwest Study Group (including areas 1 and 2) and see the full list of neighborhoods and descriptions above!
Subarea 3:
Boulevard Crossing

These Atlanta neighborhoods make up subarea 3:

Beulah Heights
Boulevard Heights
Chosewood Park
Englewood Manor
Grant Park
Ormewood Park

Picking up from Hill Street where subarea 2 leaves off, the BeltLine trail makes tracks through subarea 3 just north of Englewood and crosses Boulevard Avenue, Confederate Avenue, and over the arched, brick bridge soaring over Ormewood Avenue almost up to Glenwood Avenue.
Highlights of subarea 3 include Boulevard Crossing Park, Grant Park, Zoo Atlanta, the Cyclorama, a cluster of restaurants in Grant Park, and home styles ranging from cozy bungalows to Victorian-style restorations. Be sure to mark your calendar for the Grant Park Summershade Festival the last weekend in August every year!
Read more about the communities of subarea 3 above and see which one might be the perfect fit for you! You can also find information for the BeltLine Southeast Study Group here (including areas 3 and 4)!


Subarea 4:
Memorial-Glenwood

The following intown communities make up subarea 4:
Cabbagetown
Glenwood Park
Grant Park
Ormewood Park
Reynoldstown

From Glenwood Avenue, we have the smaller, but densely packed subarea 4 where the BeltLine path navigates out of Grant Park and becomes a part of Bill Kennedy Way (also know as the Glenwood Connector), crosses over I-20, intersects Memorial Drive at grade, winds north in between Chester Avenue and Holtzclaw Street, crosses Kirkwood Avenue and Wylie Street, and hits the Hulsey rail yard and DeKalb Avenue.
When you visit this area (or move here!), be sure to stroll historic Oakland Cemetery, picnic in the Cabbagetown Park, stop off for a bite to eat at Glenwood Park (a newer green development), and enjoy a coffee in Cabbagetown. Subarea 4 also houses the Fulton Cotton Mill Lofts (more about that in the Cabbagetown neighborhood description below) – an amazing restoration of one of Atlanta's great landmarks, now home to soaring, creative loft spaces. And stick around for the local festivals like the Chomp and Stomp and Wheelbarrow Fest!
Want to explore more? Click the neighborhood names above for the history and types of homes you'll find in these unique neighborhoods! And get involved with the BeltLine Southeast Study Group (including areas 3 and 4)!
Subarea 5:
Freedom Parkway

Below, you'll find the Atlanta neighborhoods that make up subarea 5:
Inman Park
Poncey-Highland
Sweet Auburn
Just west of the Krog Street tunnel (you know, the one with the decorative graffiti), we pick the BeltLine trail back up at Airline Street. This section of the path is completely walkable and your feet should pay it a visit. Head north from DeKalb Avenue / Decatur Street and you will cross under Edgewood Avenue, parallel Krog Street, traverse Irwin Street at grade, meander through Inman Park Village (home to classy condos and townhomes), under the North Highland and Freedom Parkway Bridges, and into Historic Fourth Ward Park. Subarea 5 draws its boundaries at City Hall East and the overpass above Ponce de Leon Avenue.
If you're looking for a loft or condo near the heart of Atlanta, then this area could be the perfect fit for you! Thanks to Atlanta's history of railroads and industry, this section of the BeltLine is lined with unique, trendy lofts and stunning restaurants. Not into the loft scene? No worries, there are enchanting historic homes waiting for you!
In this part of Atlanta, you'll discover Historic Fourth Ward Park, Martin Luther King Jr.'s birth place and legacy, a walkable cluster of restaurants along North Highland, stately Victorian homes, the Jimmy Carter Library and Museum, the bike path to Stone Mountain, Masquerade Music Park, and a convenient connection to the Inman Park-Reynoldstown MARTA station.
Learn more about these eastern communities with our neighborhood pages above! And find info about the BeltLine Northeast Study Group here (including areas 5 and 6)!

Subarea 6:
Monroe-Piedmont
Find out more about these northeast neighborhoods covered in subarea 6:
Ansley Park
Midtown
Morningside
Piedmont Heights
Sherwood Forest
Virginia Highland

If you live in the northeast quadrant of Atlanta, chances are you've driven under the old railroad bridge above Ponce de Leon Avenue by Paris on Ponce and City Hall East. That is the historic rail line that is transforming into the Atlanta BeltLine. You can access this part of the trail from streets that jut west of Ponce de Leon Place and walk north behind Whole Foods, Home Depot, and more up to Midtown Arts Plaza; cross the intersection of Monroe and 10th at grade; continue into Piedmont Park and pass behind Amsterdam Walk. The BeltLine enters the Piedmont Park expansion and leaves Virginia Highland for Morningside and Ansley, passing Ansley Mall and the Ansley Park Golf Course until intersecting with the northern border of subarea 6 at highway 85.
Highlights of subarea 6 includes Piedmont Park (and the cobblestone streets and brick bungalows surrounding the park), the Atlanta Botanical Gardens, the ever-vibrant Midtown Atlanta, Grady High School, and Ansley Golf Course.
Would you like to get involved with the BeltLine's Northeast Study Group (including areas 5 and 6)? Click here! And peruse the neighborhoods of this BeltLine stretch above!


Subarea 7:
Northside-Peachtree-Piedmont
Find out more about these neighborhoods in between the split of highways 75 and 85:

Ardmore
Brookwood / Brookwood Hills
Buckhead
Collier Hills
Lindbergh / Lindbergh City Center
Lindridge / Martin Manor
Peachtree Hills
The Beltline's subarea 7 envelopes the neighborhoods in between the "Brookwood Split" – where the Connector divides into 75 and 85 north. This area beckons you to take advantage of Tanyard Creek and the Atlanta Memorial Trail; Bobby Jones Golf Course; Lindbergh City Center; Sweetwater Brewery; the Atlanta Decorative Arts Center; Bennett Street art galleries; and much more! A spur trail connects you to the Lindbergh MARTA station for public transportation and the main path passes directly by Piedmont Hospital. These northern neighborhoods of Atlanta offer stately homes and wide street – read about each community below!
Click here for contact information for the BeltLine Northside Study Group (including areas 7 and 8)!


Subarea 8:
Upper Westside-Northside
Don't miss these subarea 8 neighborhoods on the west side of town:
Atlantic Station
Berkeley Park
Blandtown
Channing Valley
Home Park
Loring Heights
Marietta Street Artery
After the BeltLine crosses highway 75, it dips south towards Atlantic Station and the Atlanta Waterworks. Sometimes referred to as "West Midtown," Atlanta's industrial westside has seen a resurgence in art, culture, restaurants, and housing. You will find industrial warehouses converted into trendy lofts and office spaces as well as an array of fine dining focused on food from local Georgia farmers. Atlantic Station stands apart as one of the nation's largest live, work, play developments and you can find never-before-seen deals on Atlanta's highrise condos in this area. And while you're there, swing by Ikea for some Swedish meatballs and affordable European furnishings for your new BeltLine home!
Subarea 8 falls under the BeltLine Northside Study Group (including areas 7 and 8) – find out how to get involved today!


Subarea 9:
Upper Marietta-Westside Park
These trendy, industrial neighborhoods make up subarea 9:
Grove Park
Howell Station
Knight Park
Marietta Street Artery
Rockdale
The Marietta Street Artery actually shares the northern border of subarea 9 with subarea 8 and runs south to Hollowell. To buy a home in this part of town would be a true investment in what will be one of Atlanta's crowning jewels – the Westside Reservoir Park. Formerly a Vulcan quarry, the vast pit will be filled in with a 30-day water supply for Atlanta and surrounded by 300 acres of greenspace (to rival Piedmont Park's 200 acres on the eastside). Other highlights of this subarea include Grove Park, proximity to Georgia Tech, and a connection at the Bankhead MARTA station.
Get involved with the BeltLine's Westside Study Group today!


Subarea 10:
Boone-Hollowell
These northwest Atlanta neighborhoods make up subarea 10:

Ashview Heights
Bankhead
Hunter Hills
Just Us
Mozley Park
Washington Park
From Hollowell, the BeltLine path delves right into Maddox Park, crosses Simpson Road, and enters the Hunter Hills neighborhood by the Washington Park Tennis Center at the end of Lena Street. Just a few blocks east on Lena is the Ashby MARTA station and, several blocks to the south, Fair Street serves as a main artery connecting the BeltLine to Atlanta University Center – a collection of Atlanta's historically black colleges, including Clark Atlanta, Spelman, and Morehouse Colleges. The Castleberry Hill and Loft District as well as the Georgia Dome and downtown Atlanta are just a stone's throw away, too. Follow the BeltLine south to I-20 and you've completed the circle and are back to the beginning of subarea 1!
Click here for contact information for the BeltLine's Westside Study Group (including areas 9 and 10)!


Community Reports



A quick and easy way to find useful information about your community, nearby schools and local businesses.